Provider Event: Coach LA presents Poe-therapy -A spoken word open mic night
December 7, 2022 @ 7:00 pm

-

11:00 pm

Free - $25.00
Poe-Therapy: A night of therapeutic Spoken Word hosted by Therapist_Coach LA
Coach LA presents Poe-Therapy, where poetry and spoken word become Poe-therapy.
Join Coach LA and friends for an open-mic experience curated to inspire resilience, encourage optimism, and empower us to #BETonSELF utilizing poetry, and spoken word as a tool to practice SELF-care.
If you believe in the power of poetry(spoken word) and the importance of taking care of your mental health, join us as we enjoy the ambiance of Orchid7, and the energy, and vibe that only your favorite around the way therapist Coach LA can bring.
Music by NwASoul follow them @NwaSoul
Don't miss this evening of therapeutic spoken word curated to inspire and motivated us all to #BETonSELF.
Tickes FAQ _Important Information
How do "General Admissioin" tickets work?
***General Admission is a First come First Serve seating option, if seated at the bar/table requires a min. purchase of $25 per person
How does a "Secure Your Seat "ticket work?
Secure Your Seat is similar to your typical restaurant reservation, it allows you to reserve your seat until 8pm. This ticket requires a min. purchase of $25 per person. Please note after 8 pm the restaurant reserves the right to seat another party at your table.
Can I get a refund ?
Yes, but all tickets are non-refundable after December 1st. Please email organzier at admin@weroclives.com.
Can a poet reserve a seat or purchase a general admission ticket?
Yes, they can. We appreciate the love and support of our event.
Do poets have to buy a ticket?
No, as a thank you to the poets, they are considered a special guest. As a token of our appreciaion and their wilingness to share thier work. Please note if an artist does not perform they may be subject to paying the general admission entry cost, and required min. purchase of $25.
Learn more about Coach LA at www.IamCoachLA.com
Subscribe and Listen to her RadioShow/Podcast on The UrbanHeat 89.1FM Sundays at 10 pm https://conversations-with-therapist-coach-la.simplecast.com/
Download The UrbanHeat 98.1FM app or bookmark https://www.heat981fm.com/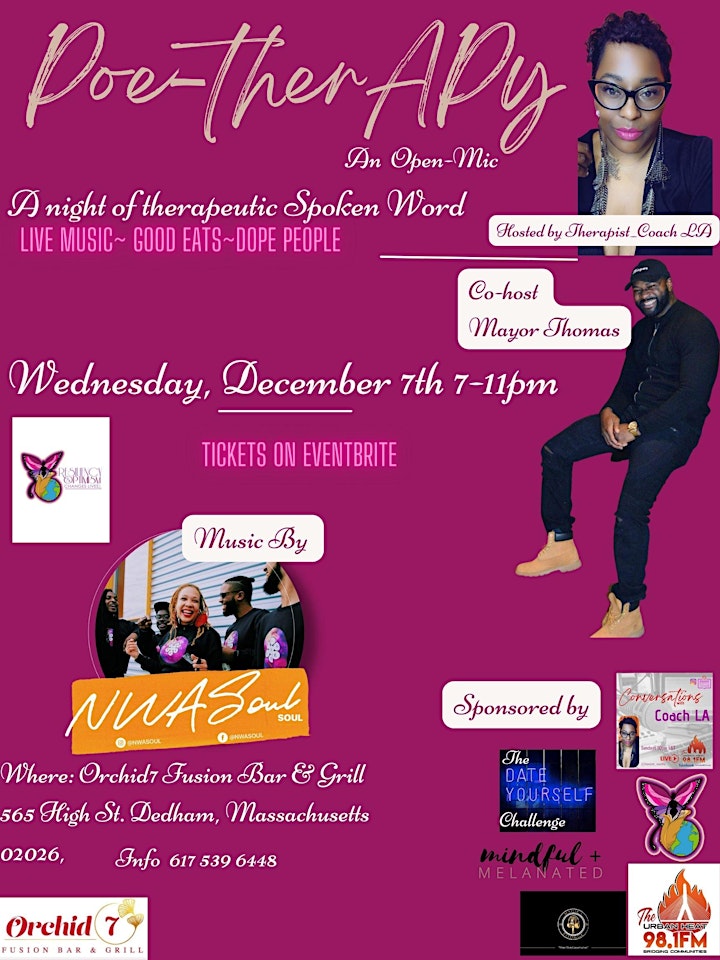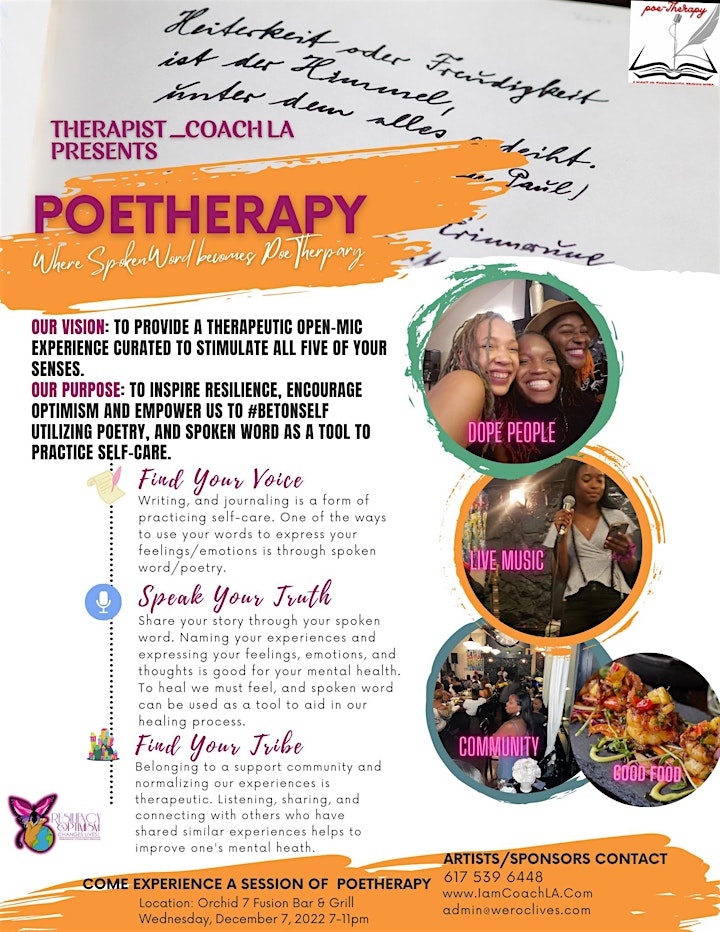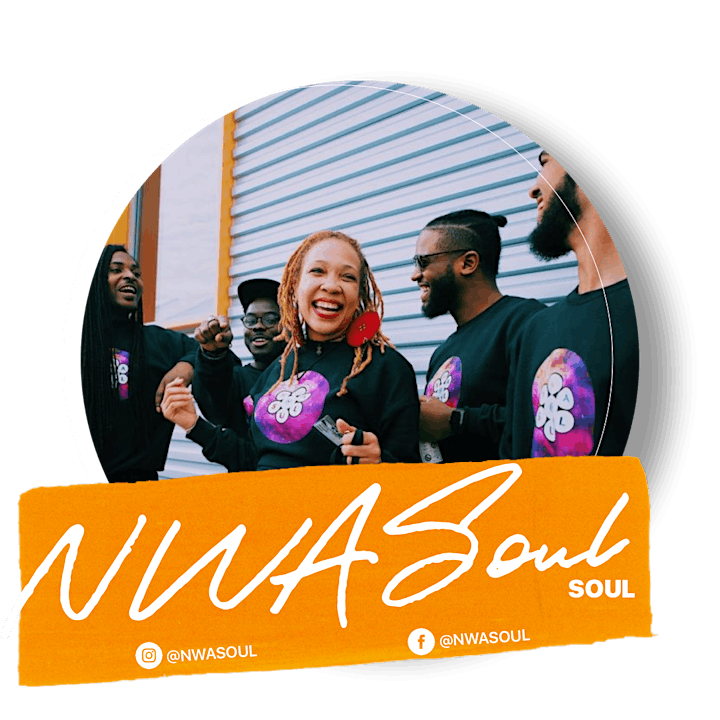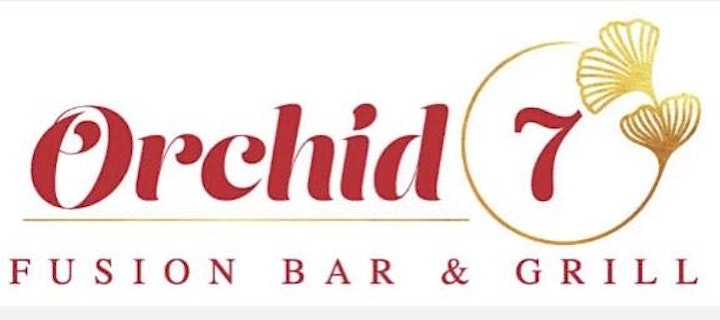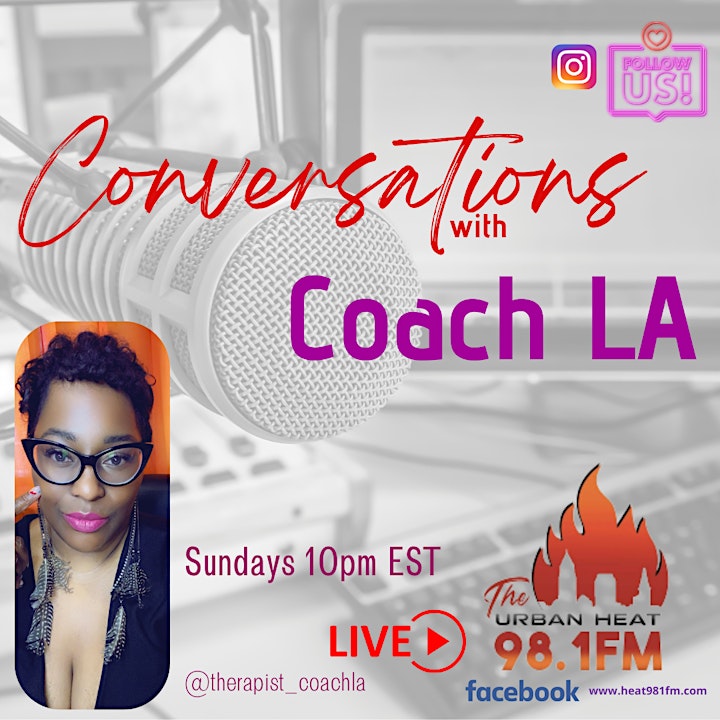 Hosted by Coach LA, UrbanHeat981FM radio personality and curator of Conversations of Coach LA.
Catch her on UrbanHeat981FM and Iheartradio Sundays at 10 PM EST.
Download the App or Listen on Iheartradio
https://www.heat981fm.com/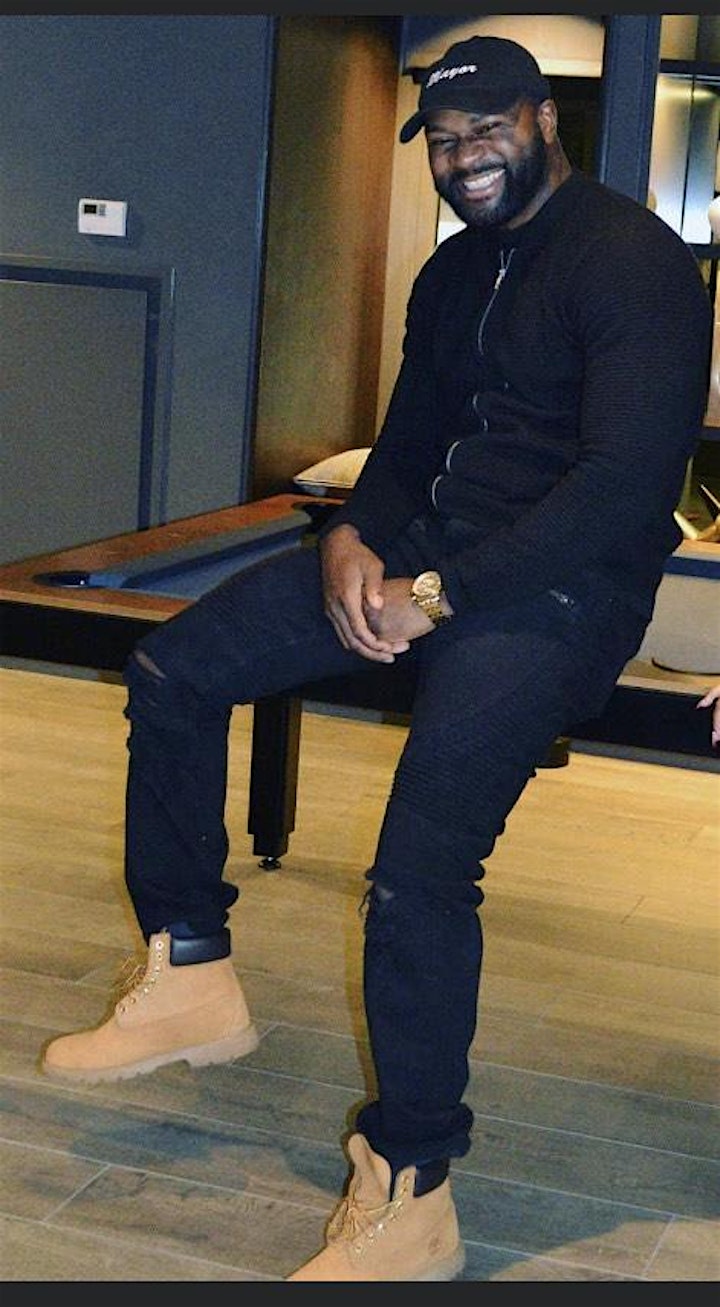 Meet Mayor Thomas!! PoeTherapy Session Two is co-hosted by the witty, opinionated and handsome Mayor Thomas curator of The Mayor's Lounge!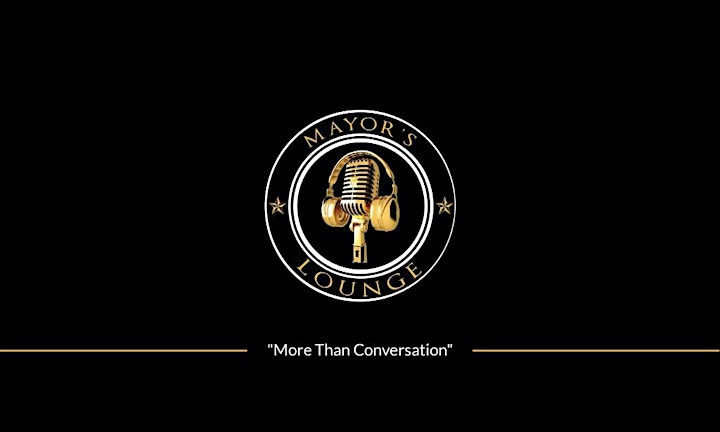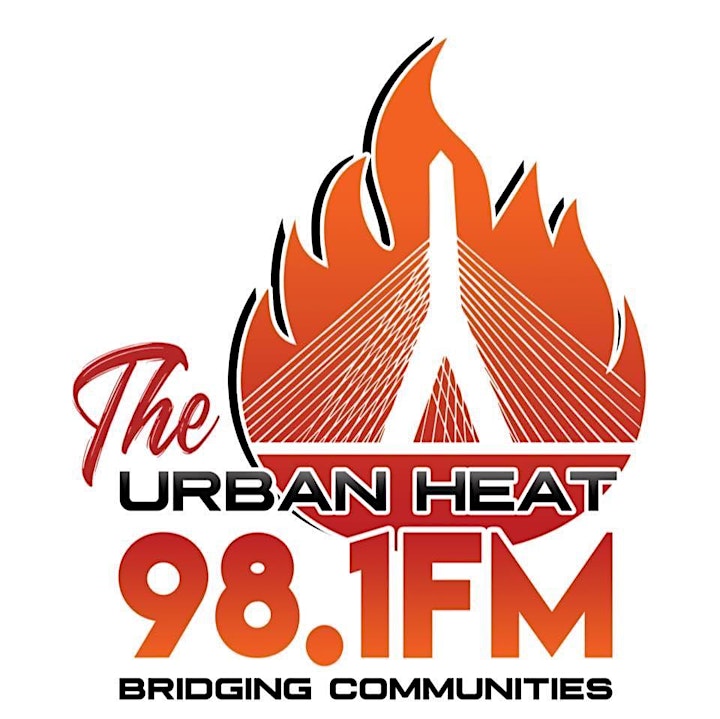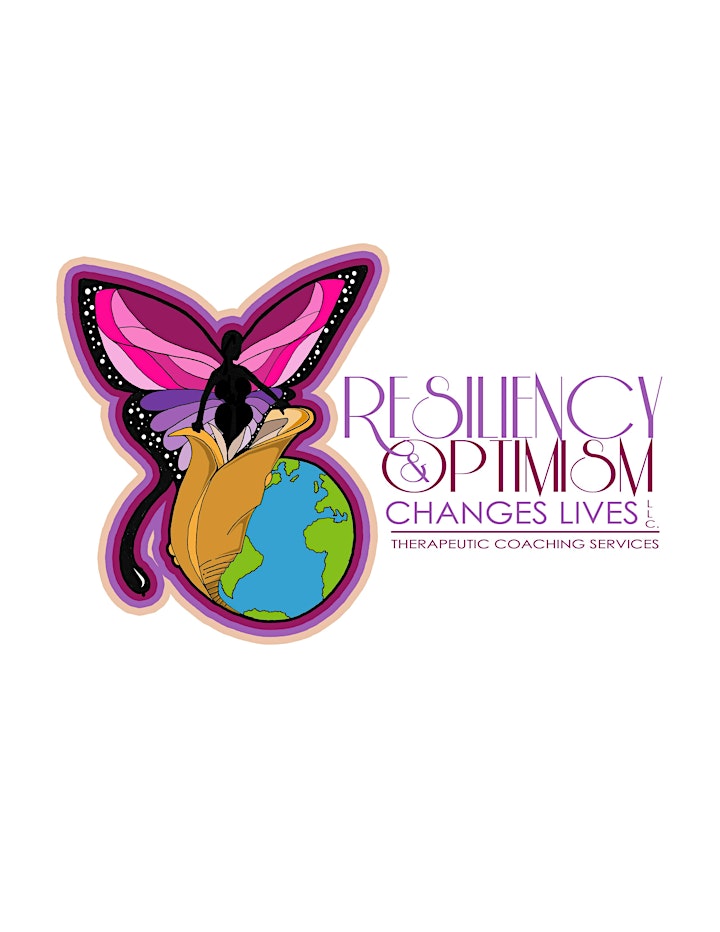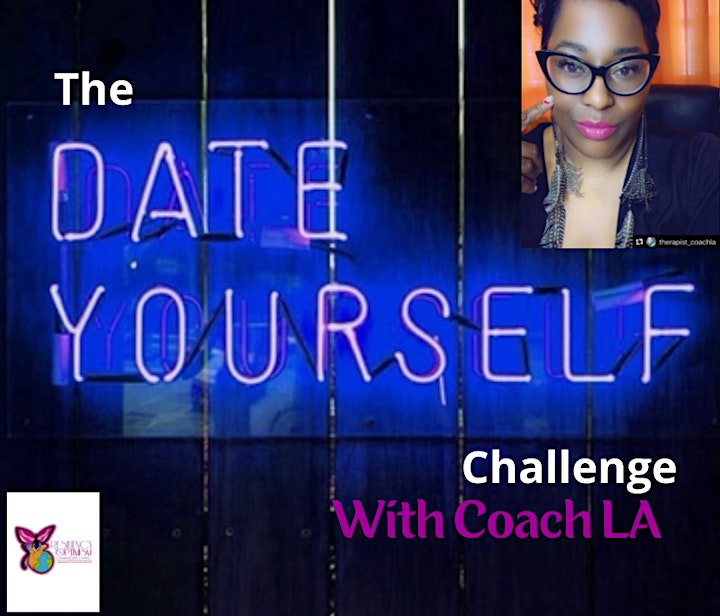 Thank you to our sponsors
Mindful +Melanted
UrbanHeat 98.1FM
Resiliency and Optimism Changes Lives LLC.
Orchid7 Fusion Bar & Grill
Black Economic Council of Massachusetts
Related Events